Comoros Islands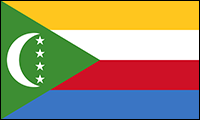 FÉDÉRATION COMORIENNE de FOOTBALL
President Tourqui Salim
Address
CP 798
Moroni
COMOROS
Website www.fedcomfootball.com
Established 1979
Affiliated to FIFA 2005
Affiliated to CAF 2006
Honours none
The Comoros are relatively new members of COSAFA and made their debut in the 2008 tournament in South Africa, where they more than held their own despite going out in the first round. The island archipelago is also among the youngest members of the world football's family and continue to develop as a footballing nation.
COMOROS COSAFA CASTLE CUP HISTORY
The Comoros collected their first ever win in the COSAFA Castle Cup after victory over Seychelles in the 2009 tournament in Zimbabwe, their second appearance at the regional showpiece.
They performed admirably in that event, also securing a draw against Botswana, but a 3-0 loss to Swaziland meant they bowed out in the first round.
It was an improvement on their first showing in 2008 when they lost all three games without scoring a goal. They did not compete in the 2013 and 2015 finals.
COSAFA CASTLE CUP RESULT RECORD
| DATE | VENUE | OPPONENT | RESULT | GOALSCORERS |
| --- | --- | --- | --- | --- |
| 20-7-08 | Secunda | NAMIBIA | 0-3 | - |
| 22-7-08 | Secunda | MALAWI | 0-1 | - |
| 24-7-08 | Secunda | LESOTHO | 0-1 | - |
| 18-10-09 | Bulawayo | BOTSWANA | 0-0 | - |
| 20-10-09 | Bulawayo | SEYCHELLES | 2-1 | Ali, Mouigni |
| 22-10-09 | Bulawayo | SWAZILAND | 0-2 | - |
OVERALL RECORD
| | P | W | D | L | F | A |
| --- | --- | --- | --- | --- | --- | --- |
| Home | 0 | 0 | 0 | 0 | 0 | 0 |
| Away | 6 | 1 | 1 | 5 | 2 | 8 |
| Total | 6 | 1 | 1 | 5 | 2 | 8 |