Namibia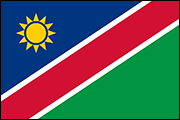 GENERAL INFORMATION
Area 824,300 sq km
Population 2.1-million
Capital City Windhoek
Currency Namibian Dollar
Official language English
President Hage Geingob
NAMIBIA FOOTBALL ASSOCIATION
President Frans Mbidi
Address
P.O. Box 1345
Windhoek
NAMIBIA
Website www.nfa.org.na
Established 1990
Affiliated to FIFA 1992
Affiliated to CAF 1992
Honours none
Namibia upset the formbook to qualify for the 2008 African Nations Cup finals, the second time the 'Brave Warriors' have managed to find themselves among the continent's elite at its most prestigious tournament. Times have been tougher since, with a major rebuilding of the national team under way. The team is led by coach Ricardo Mannetti, a former national team player and someone who spent most of his career playing in South Africa.
NAMIBIA COSAFA CUP HISTORY
Namibian football has seen something of a resurgence in recent years, culminating in their victory in the COSAFA Cup 2015 tournament staged in South Africa.
The side became just the fourth nation to win the COSAFA Cup tournament when they defeated Mozambique 2-0 in the final.
It is something of a return to the heady heights attained in 1997 and 1999 when they were Cosafa Cup runners-up, and in 1998 and 2008 when they shocked African football by reaching the African Nations Cup finals.
In 2008 they broke a run of seven first round exits in the Cosafa Cup – when they lost to Zimbabwe, Mauritius, Swaziland, Angola and Botswana three times – as they progressed to the quarterfinals before losing out to a South African President's XI.
They also managed to claim their first away win in the competition in 2007 when they beat Lesotho to third place in the group stages in Gaborone. They followed that up in 2008 with away wins against the Comoros Islands and Malawi as the tournament moved to South Africa.
The Brave Warriors were the surprise package of the 1997 edition, finishing second to winners Zambia and in 1998 caused a major upset by knocking out World Cup finalists South Africa at the preliminary round stage.
In 1999, they were again in the final, and narrowly lost to Angola in extra-time in the second leg in Windhoek.
COSAFA CUP RESULT RECORD
| DATE | VENUE | OPPONENT | RESULT | GOALSCORERS |
| --- | --- | --- | --- | --- |
| 16-3-97 | Windhoek | ZIMBABWE | 2-1 | Hindjou (2 pens) |
| 31-5-97 | Mwanza | TANZANIA | 0-0 | |
| 28-6-97 | Windhoek | MALAWI | 4-1 | Uri Khob, de Gouveia, Hindjou, Shivute |
| 20-7-97 | Maputo | MOZAMBIQUE | 1-1 | Goraseb |
| 31-8-97 | Windhoek | ZAMBIA | 1-1 | Ouseb (pen) |
| 25-1-98 | Windhoek | SOUTH AFRICA | 3-2 | Goagoseb, Tjihero, Auchumeb |
| 19-4-98 | Harare | ZIMBABWE | 2-5 | Uri Khob, Khaiseb |
| 30-5-98 | Windhoek | ANGOLA | 1-1 | Angula |
| 8-8-98 | Lusaka | ZAMBIA | 1-1 | Hindjou |
| 30-8-98 | Windhoek | MOZAMBIQUE | 2-1 | Tjikuzu, Shivute |
| 7-2-99 | Maseru | LESOTHO | 0-1 | |
| 23-5-99 | Blantyre | MALAWI | 1-1 | Uutoni |
| 31-7-99 | Windhoek | SOUTH AFRICA | 1-1 | Hindjou |
| 28-8-99 | Windhoek | SWAZILAND | 1-1 | Goraseb |
| 26-9-99 | Luanda | ANGOLA | 0-1 | |
| 2-10-99 | Windhoek | ANGOLA | 1-1 | Shivute |
| 14-5-00 | Harare | ZIMBABWE | 2-3 | Benjamin, Naruseb |
| 08-4-01 | BelleVue | MAURITIUS | 0-1 | |
| 21-4-02 | Somhlolo | SWAZILAND | 1-2 | Van Wyk |
| 16-3-03 | Windhoek | BOTSWANA | 0-1 | |
| 9-5-04 | Luanda | ANGOLA | 1-2 | Petrus |
| 16-4-05 | Windhoek | BOTSWANA | 1-1 | Botes |
| 22-7-06 | Windhoek | SEYCHELLES | 1-1 | Khaiseb |
| 23-7-06 | Windhoek | MALAWI | 3-2 | Isaak, Bester, Botes (pen) |
| 28-07-07 | Gaborone | NAMIBIA | 0-1 | |
| 29-07-07 | Gaborone | LESOTHO | 3-2 | Katupose, Brendell 2 |
| 20-07-08 | Secunda | COMOROS | 3-0 | Kaimbi, Q Jacobs 2 |
| 22-07-08 | Secunda | LESOTHO | 1-1 | Ngatjizeko |
| 24-07-08 | Secunda | MALAWI | 1-0 | Kaimbi |
| 26-07-08 | Witbank | SA PRES XI | 0-1 | |
| 25-10-09 | Harare | ZAMBIA | 0-1 | |
| 6-7-13 | Lusaka | MAURITIUS | 2-1 | Shitembi, Jakob |
| 8-7-13 | Lusaka | SEYCHELLES | 4-2 | Urikhob, Gebhardt 2, Tjiueza |
| 13-7-13 | Lusaka | SOUTH AFRICA | 1-2 | Stephanus |
| 16-7-13 | Kitwe | MOZAMBIQUE | 0-1 | |
| 17-5-15 | Moruleng | SEYCHELLES | 0-0 | |
| 19-5-15 | Moruleng | MAURITIUS | 2-0 | Shilongo 2 |
| 21-5-15 | Moruleng | ZIMBABWE | 4-1 | Katjiukua, Hotto 2, Urikhob |
| 24-5-15 | Moruleng | ZAMBIA | 0-0 | |
| 28-5-15 | Moruleng | MADAGASCAR | 3-2 | Shilongo 2, Shalulile |
| 30-5-15 | Moruleng | MOZAMBIQUE | 2-0 | Hotto 2 |
OVERALL RECORD
| | P | W | D | L | F | A |
| --- | --- | --- | --- | --- | --- | --- |
| Home | 13 | 5 | 7 | 1 | 21 | 15 |
| Away | 28 | 9 | 7 | 12 | 35 | 33 |
| Total | 41 | 14 | 14 | 13 | 56 | 48 |