Swaziland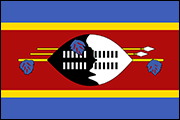 GENERAL INFORMATION
Area 17,360 sq km
Population 1.2-million
Capital City Mbabane
Currency Emalangeni
Official languages English, Seswati
King Mswati III
NATIONAL FOOTBALL ASSOCIATION of SWAZILAND
President Adam Mthethwa
Address
P.O. Box 641
Mbabane H100
SWAZILAND
Website www.nfas.org.sz
Established 1968
Affiliated to FIFA 1976
Affiliated to CAF 1976
Honours none
Swaziland have been a thorn in the side of many a top team down the years but results have been disappointing in recent campaigns. The current side is coached by local tactician Harries Bulunga, who is seeking to rebuild the side into one that can challenge again for qualification to major tournaments.
SWAZILAND COSAFA CUP HISTORY
Swaziland have reached the semifinals of the Cosafa Cup on three occasions, proving their potential for upset results.
In 2003 Sihlangu reached the last four but then lost to eventual winners Zimbabwe. In 2002 they were beaten in the semifinals by South Africa, who also went on to win the competition, and in 1999 they were also semifinalists but were narrowly defeat by Namibia on post-match penalties after a 1-1 draw.
Ironically before 1999, they had never won a game in the competition but are now always considered a threat in the Cosafa Senior Challenge.
In 2004 Swaziland reached a competition low when they lost their quarter-final tie at home to Zimbabwe by a competition record score line of 5-0. The match was not completed after a crowd riot brought the match to a premature halt. In 2003, Swaziland played host to the African Under-17 championships.
They have not managed to make it past the group stages in the last five Cosafa tournaments, but have lost just three of their previous 14 matches, too many draws costing them a place in the knockout stages.
COSAFA CUP RESULT RECORD
| DATE | VENUE | OPPONENT | RESULT | GOALSCORERS |
| --- | --- | --- | --- | --- |
| 03-3-97 | Somhlolo | MOZAMBIQUE | 0-4 | |
| 08-3-98 | Somhlolo | ANGOLA | 0-1 | |
| 09-5-99 | Somhlolo | MOZAMBIQUE | 3-1 | Nkambule 2 (1 pen), Masina |
| 18-7-99 | Somhlolo | ZIMBABWE | 1-1 | Mdluli pen |
| 28-8-99 | Windhoek | NAMIBIA | 1-1 | Masina |
| 18-6-00 | Witbank | SOUTH AFRICA | 0-2 | |
| 11-2-01 | Somhlolo | ZAMBIA | 0-0 | |
| 8-7-01 | Harare | ZIMBABWE | 1-2 | Nhleko |
| 21-4-02 | Somhlolo | NAMIBIA | 2-1 | M Dlamini 2 (1 pen) |
| 5-5-02 | Harare | ZIMBABWE | 2-0 | Siza Dlamini, Sibusiso Dlamini |
| 24-9-02 | Polokwane | SOUTH AFRICA | 1-4 | Siza Dlamini |
| 13-7-03 | Somhlolo | MADAGASCAR | 2-0 | Siza Dlamini, M Dlamini |
| 31-8-03 | Bulawayo | ZIMBABWE | 0-2 | |
| 27-6-04 | Somhlolo | ZIMBABWE | 0-5 | |
| 11-6-05 | Lusaka | ZAMBIA | 0-3 | |
| 20-5-06 | Gaborone | SOUTH AFRICA | 0-1 | |
| 21-5-06 | Gaborone | MADAGASCAR | 2-0 | Msibi, Mamba |
| 26-5-07 | Somhlolo | MAURITIUS | 0-0 | |
| 27-5-07 | Somhlolo | MALAWI | 1-0 | M Tsabedze |
| 19-7-08 | Witbank | MADAGASCAR | 1-1 | P Dlamini |
| 21-7-08 | Witbank | MAURITIUS | 1-1 | Mazibuko |
| 23-7-08 | Witbank | SEYCHELLES | 1-0 | P Dlamini |
| 18-10-09 | Bulawayo | SEYCHELLES | 2-1 | Twala, Mfanzile Dlamini |
| 20-10-09 | Bulawayo | BOTSWANA | 0-1 | |
| 22-10-09 | Bulawayo | COMOROS | 3-0 | Twala, Mthethwa, Mfanzile Dlamini |
| 7-7-13 | Kitwe | BOTSWANA | 0-0 | |
| 9-7-13 | Kitwe | KENYA | 0-2 | |
| 11-7-13 | Lusaka | LESOTHO | 0-2 | |
| 18-5-15 | Phokeng | TANZANIA | 1-0 | Mabila |
| 20-5-15 | Phokeng | LESOTHO | 2-0 | Sibandze, Mkhontfo |
| 22-5-15 | Phokeng | MADAGASCAR | 1-1 | Ndzinisa |
OVERALL RECORD
| | P | W | D | L | F | A |
| --- | --- | --- | --- | --- | --- | --- |
| Home | 10 | 4 | 3 | 3 | 9 | 13 |
| Away | 21 | 7 | 5 | 9 | 19 | 24 |
| Total | 31 | 11 | 8 | 12 | 28 | 37 |